Selamat hari Rabu! Waktu nya berandai-andai~ hihihihi
Pagi teman-teman blogger! Huahahaha hari ini saya happy karena ternyata saya menang giveaway yang diadakan kak Astrid minggu lalu. Lumayan, hadiah penyambutan di hari Natal 😀 Terima kasih ya kak Astrid *pelukcium*
Hmmm.. Sebenernya wishlish saya sih super banyak, tapi, saya sebutin dua aja deh. Huehehehe, jadi, ini dia wishlistku yang 'sedikit' sederhana ini…
1. Coda by Emma Trevayne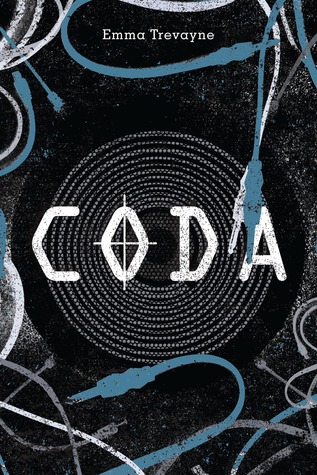 Hayo, mana yang ngiler? #nunjuktangansendirisambilngelapiler
Pertama, buku ini kece banget covernya. Bikin kepingin punyaaa. Kedua, tentu saja genre buku ini distopia. Huehehehehe mau banget lah pokoknya :")
Dan ini dia blurb nya :
Ever since he was a young boy, music has coursed through the veins of eighteen-year-old Anthem—the Corp has certainly seen to that. By encoding music with addictive and mind-altering elements, the Corp holds control over all citizens, particularly conduits like Anthem, whose life energy feeds the main power in the Grid.
Anthem finds hope and comfort in the twin siblings he cares for, even as he watches the life drain slowly and painfully from his father. Escape is found in his underground rock band, where music sounds free, clear, and unencoded deep in an abandoned basement. But when a band member dies suspiciously from a tracking overdose, Anthem knows that his time has suddenly become limited. Revolution all but sings in the air, and Anthem cannot help but answer the call with the chords of choice and free will. But will the girl he loves help or hinder him?
Kurang menarik apa, coba?! Huhuhu ngebet banget sama buku ini, ada di Betterworldbooks sih dengan harga USD 8.48 tapi……… masih galau mau beli atau nggak. Semoga aja bisa dapet buku ini ya. Huehehehe.
lanjut ke buku kedua, ini dia wishlist ku :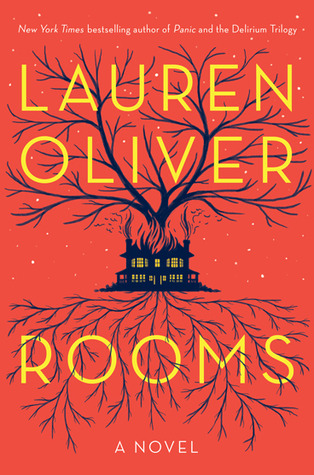 Kalian pasti tahu aku penggemar berat nya Lauren Oliver #geerlojoosiapajugamautau.
Jadi, jadi, buku ini adalah satu-satunya buku yang belum aku punya dari Lauren Oliver (setelah akhirnya Panic mau dikasih sama kakak Nana yang baik hati dan tidak sombong #elah). Huehehehe. Berbeda dengan bukunya Lauren Oliver yang bergenre anak-anak dan distopia (lebih ke remaja), kali ini Lauren Oliver menawarkan kisah horor yang menurutku sih, menarik. Mau baca reviewnya? hati-hati kepingin juga masukkin ke wishlist xDD
The New York Times bestselling author of Before I Fall and the Delirium trilogy makes her brilliant adult debut with this mesmerizing story in the tradition of The Lovely Bones, Her Fearful Symmetry, and The Ocean at the End of the Lane—a tale of family, ghosts, secrets, and mystery, in which the lives of the living and the dead intersect in shocking, surprising, and moving ways
Wealthy Richard Walker has just died, leaving behind his country house full of rooms packed with the detritus of a lifetime. His estranged family—bitter ex-wife Caroline, troubled teenage son Trenton, and unforgiving daughter Minna—have arrived for their inheritance.
But the Walkers are not alone. Prim Alice and the cynical Sandra, long dead former residents bound to the house, linger within its claustrophobic walls. Jostling for space, memory, and supremacy, they observe the family, trading barbs and reminiscences about their past lives. Though their voices cannot be heard, Alice and Sandra speak through the house itself—in the hiss of the radiator, a creak in the stairs, the dimming of a light bulb.
The living and dead are each haunted by painful truths that will soon surface with explosive force. When a new ghost appears, and Trenton begins to communicate with her, the spirit and human worlds collide—with cataclysmic results.
Elegantly constructed and brilliantly paced, Rooms is an enticing and imaginative ghost story and a searing family drama that is as haunting as it is resonant.
Nah, hari ini itu saja deh wishlistku. Share juga yuk wishlistmu di hari Rabu!
Silakan follow

blog

Books To Share – atau tambahkan di blogroll/link blogmu =)
Buat posting mengenai buku-buku (boleh lebih dari 1) atau segala hal yang berhubungan dengan kebutuhan bookish kalian, yang jadi inceran kalian minggu ini, mulai dari yang bakal segera dibeli, sampai yang paling mustahil dan hanya sebatas mimpi. Oya, sertakan juga alasan kenapa buku/benda itu masuk dalam wishlist kalian ya!
Tinggalkan

link

postingan

Wishful Wednesday

kalian di Mr. Linky (klik saja tombol Mr. Linky di bagian bawah post). Kalau mau, silakan tambahkan button Wishful Wednesday di posting kalian.
Mari saling berkunjung ke sesama blogger yang sudah ikut share wishlistnya di hari Rabu =)